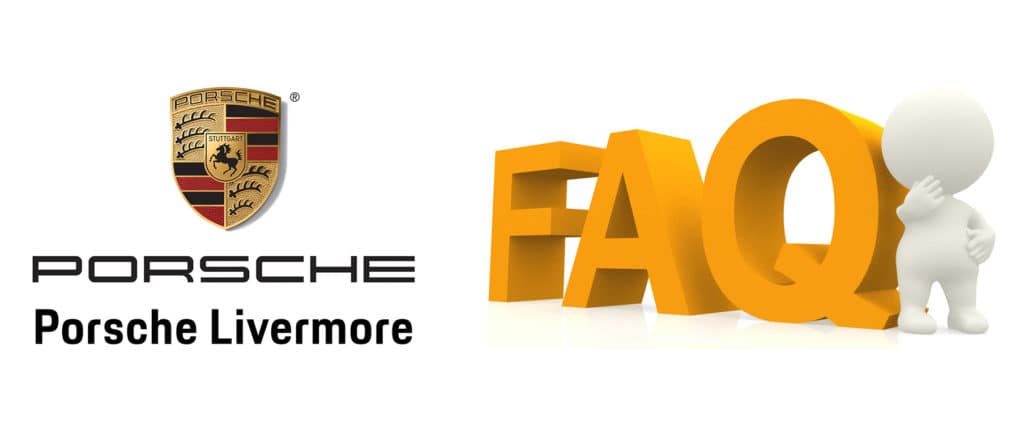 NEW CLIENT FREQUENTLY ASKED QUESTIONS (F.A.Q.)
Congratulations on your recent Porsche purchase.
Operational knowledge is key to the appreciation of your Porsche; therefore, Porsche has invested in several online state-of-the-art websites and downloadable applications to improve the understanding of your vehicle:
*please note, all blue highlighted words are clickable links taking you directly to the appropriate website.
Porsche Owners Manuals - This link provides model specific video demonstrations for various operations of your Porsche. Make sure to add it to your favorites.
Porsche Connect & Connect Plus - Learn about features and proper operation of your Navigation, Google Earth, in car Wi-Fi, and Apple CarPlay.
Porsche: Good to Know - Get to know your Porsche with these video clips & user guides.
Porsche Vehicle Delivery App - For iPad owners, download the free app for an immersive, augmented reality tutorial.
Porsche Applications - Full suite of various Porsche Apps.
HomeLink - Garage door pairing instructions directly through HomeLink site.


Quick Guide

- Press interior HomeLink button you wish to pair; it will slowly flash

- Take handheld remote and hover it over Porsche crest on hood. Press and hold remote button you wish to pair until fog/DRLs lights flash three times (could take up to 30 seconds)

- Press the learn/train button on opener motor in garage (stepladder is handy; learn button may be hidden under cover or lightbulb panel)

- Within thirty seconds, return to the car and press the interior HomeLink button in the headliner three to five times slowly until the garage door moves.

- If the above doesn't work, try pressing buttons one and three until it flashes fast to clear previous memory/faults.

space

Porsche Online Communities - Connect to Porsche via Social media.
Porsche Club of America - The Porsche Club of America has been dedicated to enhancing the Porsche ownership experience. No matter what your interest (social, technical, or competitive), PCA has something to offer every Porsche owner.
Schedule service online via our convenient Appointment Scheduler - We do our best to place every client in a Porsche Loaner however at times a non-Porsche rental may be used when unforeseen circumstances arise. Kindly request at time of scheduling.
Porsche Customer Commitment - Call 1-800-PORSCHE for roadside assistance & client concerns, or request a Porsche Owner Concierge to help with hard to operate vehicle features.
Pair your cellphone via Bluetooth:
iPhone Link
Android Link
Tire Pressure Monitoring System - Settings and operation for TPMS.
Brake Squeal Video - Why do the brakes on my Porsche occasionally squeal?
Seat & Key Memory Settings - Video guide for saving preferred seat settings and/or saved directly to your key.


Quick Guide

- With the ignition on, press the memory button 'SET' and then press button '1 or 2' on the door panel within 10 seconds until an acknowledgement signal sounds.

- The ergonomic settings (seat, mirrors, steering wheel) are then stored on the corresponding button. -OR- Press the memory button 'SET' and then press button 'KEY' on the door panel to store the ergonomic and comfort settings (PCM, temperature, instrument cluster) on one of the keys.

- To retrieve the individual preferred settings stored on the buttons, press and hold the corresponding button until the seat movement and other adjustment operations have been completed. The settings stored on the key are retrieved automatically after unlocking the car with this specific key.

- To store the current settings on the key each time the vehicle is locked, activate the 'Auto Memory' function in the multi-function display under: Vehicle > Settings > Locking > Auto Memory. If multiple drivers use the vehicle, assign a button to each driver and save the individual settings on a specific key via the 'SET' button on the door panel.
Hours
Monday

9:00am - 8:00pm

Tuesday

9:00am - 8:00pm

Wednesday

9:00am - 8:00pm

Thursday

9:00am - 8:00pm

Friday

9:00am - 8:00pm

Saturday

9:00am - 7:00pm

Sunday

10:00am - 5:00pm